CLEAR Champions are the backbone of our funding, giving what they can, when they can. Thanks to their extraordinary support, we're able to pursue scoliosis research worldwide, offer crucial training to doctors serving in underprivileged areas, and help patients receive the scoliosis care they deserve through our Family Fund.
Join today! Anyone who donates more than $100 or signs up for recurring donations is named a CLEAR Champion. In addition to receiving a personal thank you note along with your gift receipt, we'll celebrate your incredible support on our website and on social media.
---
Featured Supporter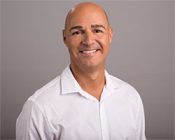 Name: Dr. Tony Nalda, DC
Location: Celebration, FL
CLEAR Certified Doctor Since: 2006
Dr. Tony Nalda's experience with patients suffering from scoliosis, and the confusion and frustration they faced, led him to seek a specialty in scoliosis care. In addition to Dr. Nalda's CLEAR certification, he was one of the very first doctors to receive World Masters Certification from ISICO, a certification that specializes in the conservative treatment and management of scoliosis. Dr. Nalda also holds certifications with other conservative scoliosis treatments such as SEAS (Scientific Exercise Approach to Scoliosis) and ScoliBrace, a Corrective 3D Scoliosis Bracing System.
I am committed to reduce and manage your scoliosis and the effects it may have on you or a loved one. As such I've assembled a team of highly trained scoliosis specialists to help you. - Dr. Tony Nalda
We thank Dr. Nalda for his leadership in non-surgical scoliosis treatment and for his continued support as a CLEAR Champion!
---
Our CLEAR Champions
Thank you to all of our Champions for their generous contributions:
Dr. Rudy Alfonso, DC
Dr. Amy Breidenbach, DCDr. Ben Breidenbach, DC
Dr. Jay Brodwyn, DC
Dr. SuYen Chong, DC
Dr. Charles Clauss, DC
Scott Favell, WhiteSky LLC
Dr. Alex Greaux, DC
Diana Herec, S.O.M. Therapy & Associates, Inc.
Dr. Daniel Hersh, DC
Izogie Imhienintama
Dr. Michael Balfanz, DC