The spinal cord serves as the communication point of the body's central nervous system by carrying signals from the brain to the peripheral nerves. When disc problems such as C5 C6 disc bulging occur in the cervical spine, it can create pressure on the nerve roots next to the spinal cord, which can lead to a variety of symptoms and health concerns.
If you have recently been diagnosed with a C5 C6 bulging disc, you may find yourself asking questions such as:
What are the common symptoms associated with C5 C6 bulging disc?
How is a bulging disc diagnosed?
What can I do to keep things from getting worse?
Will I experience pain?
What is the difference between a bulging disc and a herniated disc?
Throughout this blog, we'll explore the answers to all of these questions and more.
Bulging or Herniated?
Let's first discuss the difference between a bulging disc and a herniated disc. Although the words are often used interchangeably, they are actually different. A protruding disc is considered herniated when a rupture or tear is present. When no rupture or tear is present in a protruding disc, it is considered a bulging disc.
A slipped disc and ruptured disc are both other names for a herniated disc.
Diagnosis 
The diagnosis of a C5 C6 bulging disc often includes a physical exam and imaging tests. While a physical exam is important and frequently includes neurological testing, the only way to be sure you have a bulging disc is through diagnostic image testing via magnetic resonance imaging (MRI), and computed tomography (CT).
Symptoms
Patients with bulging and herniated discs may experience similar symptoms; however, not everyone experiences symptoms or pain. A C5 C6 bulging disc may lead to:
Pain in the neck, arms, hands or shoulders
Pins and needles or numbness in the neck, arms, hands, or shoulders
Muscle spasms or weakness
Discomfort in the thumb, forefinger, and middle finger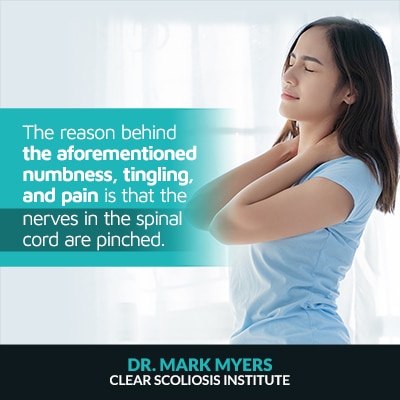 The C5 C6 segments in the spine are frequently referred to as the stress vertebrae because they support most of the weight from the neck and head. This is one of the areas in the spine most frequently affected by poor posture.
When forward head posture is present, it places abnormal stress on the discs. Significant forward head posture can lead to C5 C6 disc bulging.
Pain associated with C5 C6 disc bulging can be experienced as a result of disc pain or nerve root pain. Nerve root pain and the associated symptoms are known as radiculopathy. According to Johns Hopkins Medicine, "Cervical radiculopathy describes a compressed nerve root in the neck (cervical spine). Because the nerve roots in this area of the spine primarily control sensations in your arms and hands, this is where the symptoms are most likely to occur."
In the proper position, the cervical spine has a natural curve at the top.  When the neck becomes straight, doctors can often see immediate changes in the surrounding nerves. This can often lead to the numbness and tingling associated with C5 C6 disc bulging.
Scoliosis and Bulging or Herniated Discs
Patients diagnosed with adolescent idiopathic scoliosis (AIS) may experience pain. Occasionally, this pain may be associated with a bulging or herniated disc. In fact, in a study of 152 patients with painful AIS, 32 had a herniated nucleus pulposus (inner core of the vertebral disc). This means that 21% of patients with painful AIS also had a herniated disc.
Treatment
Traditional medical treatment is one of the first approaches that patients opt for when they notice an issue or are experiencing pain from a bulging disc. Medical treatment may include:
Medication
Physical therapy
Steroid pills or injections
Disc surgery (discectomy)
Spinal fusion surgery
Medical Treatment
Because a bulging disc can cause inflammation, doctors will often prescribe some sort of medication. Patients with severe symptoms can experience near constant pain. Medications such as steroids can temporarily reduce inflammation, therefore minimizing the pain patients experience.
Physical therapy can also be used to treat the symptoms of a bulging disc, but it can be painful and uncomfortable. Massage, heat, ultrasound or electric stimulation can be used by a PT to relieve pain.
As a last resort, doctors may recommend spinal fusion. This type of surgery fuses two or more discs of the spinal cord together. It can help to reduce the pain and physical alterations of the problem, but it will partially limit the patient for life. This type of surgery can have many types of complications such as infections, nerve damage, or even death.
Patients often try to avoid surgery due to the aforementioned limitations, combined with the natural fear of surgical procedures and the high costs. The main goal is to prevent surgery and try a few other methods to correct the spine and prevent it from getting any worse.
Treatment for Patients with Scoliosis - The CLEAR Approach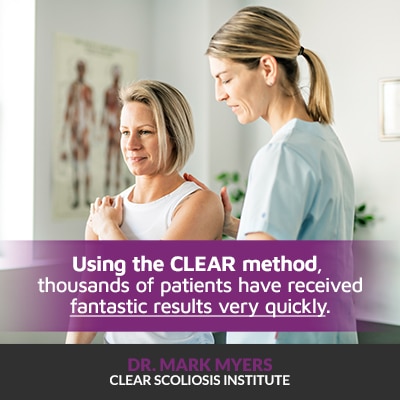 The CLEAR method was developed and has been in practice since 2000. It was created to provide scoliosis patients with options alternative to surgery, medications, injections, and other uncomfortable methods of treating scoliosis.
At CLEAR, our goal is to correct the biomechanics of the entire spine as much as possible, improving everything from the top down, instead of looking at only one specific area. By doing this, patients receive more favorable results.
Because of our approach, the CLEAR method is highly sought after by patients looking for an alternative nonsurgical approach to treating scoliosis.
Prior to beginning treatment at a CLEAR Scoliosis Center, patients may receive a digital motion X-ray. This process allows the scoliosis specialist to see how the cervical spine moves from all angles.
Each patient's case is different and their recommended treatment will be unique to their individual case.  During a typical visit at a CLEAR Scoliosis Center, patients can expect to spend 90 to 120 minutes in the clinic. In-office treatment includes three different phases known in CLEAR Scoliosis Centers as mix, fix, set.
Another huge benefit that patients will experience with the CLEAR method is that they can do a significant portion of the treatment at home. A CLEAR-certified doctor will prescribe home care exercises that are designed to be painless, which is not always the case with traditional physical therapy or other remedies. Rather than three office visits a week, patients are able to do their prescribed home care in the comfort of their own home.
To determine whether scoliosis is progressing, re-examinations must occur. Re-exams are often done one to two times per year. A re-exam for scoliosis patients often includes X-rays to monitor results, recommendations and treatments, and corrections.
Patients who utilize the CLEAR approach experience consistent results. The following expectations show how reliable and influential the CLEAR approach can be:
95% of patients say that they feel the same or better after each treatment (painless).
70% of reported cases experienced zero side effects of the treatment process.
Light soreness was the only common side effect in the remaining 30% of cases.
Conclusion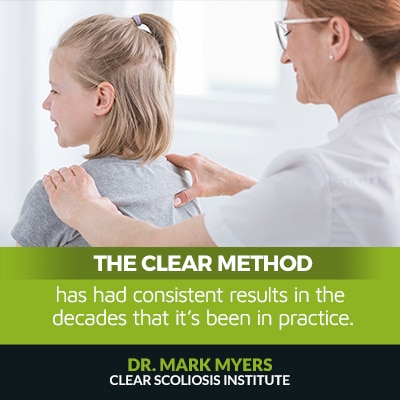 Whether you're dealing with C5 and C6 discs bulging from scoliosis, poor posture, or another cause, it is best to get evaluated by a trained expert, such as a CLEAR-certified chiropractor. Modern medical procedures are costly and often cause permanent side effects. The CLEAR method produces consistent results with little to no side effects.
If the C5 and C6 discs are bulging, they only cause pain about 50 percent of the time, but this condition can lead to a straightened neck; this leads to tension on the spine, known to cause numbness, pain, and tingling throughout the upper body.
While steroids and physical therapy can reduce inflammation, they're not always able to get to treat the underlying cause of the problem. Here at CLEAR, our patients have been benefiting from our approach since it was first established in 2000.
If you suspect any kind of disc issue, our CLEAR-certified doctors have the training, experience, and knowledge to treat the condition in a non-invasive and effective way,  allowing each and every patient to continue living their best life.
Disclaimer: The author's views are his or her own and may not reflect the views of CLEAR Scoliosis Institute.