When it comes to treating scoliosis, the focus is on reducing the curvature and managing the condition's progression. Just as exercise and physical therapy offer the average person a lot of health-and-wellness benefits, people with scoliosis can also benefit from a physical therapy program that's customized to their individual condition.
Scoliosis, Physical Therapy, and Exercise
Over the years, there has been a lot of speculation about the role of scoliosis exercises and physical therapy in treatment. What many studies have told us is that scoliosis exercises and physical therapy are not only helpful for people with scoliosis, if done correctly and at the right time, they can be an important aspect of treatment.
When an appropriate physical therapy program, including scoliosis-specific exercises, is adopted by a patient, it can be effective in terms of halting progression and even taking degrees off their curvature.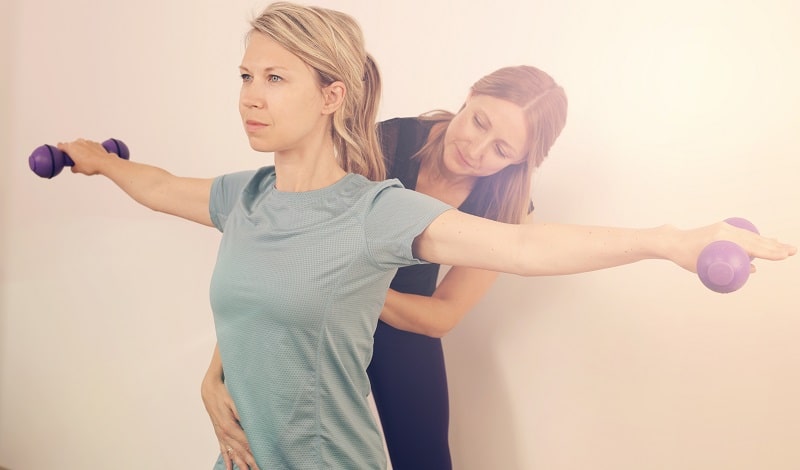 Scoliosis exercises are more effective in treating smaller curvatures. When scoliosis-specific exercises are introduced early on, the greater the chances are that they can help achieve a reduction and slow progression.
When Scoliosis Exercises are Less Effective
The larger the curvature is, the less effective scoliosis exercises will be. In cases of moderate and severe scoliosis, relying solely on scoliosis exercises for treatment won't be enough. 
At these stages, scoliosis exercises have a limited effect because the spine itself isn't as moveable as in milder cases. As a curvature progresses into the more severe stages, the spine becomes less flexible and develops something called 'scoliosis rigidity'.
Scoliosis Rigidity
When scoliosis rigidity becomes a factor, it can be difficult for the patient to even perform the exercises; this is because you can't mobilize the area that needs to be mobilized due to the rigidity associated with the scoliosis.
For example, if you consider doing reps with a bicep muscle, you can see how important being able to move the elbow is in effectively working that bicep. It's pretty tough to do bicep curls to strengthen the bicep muscle effectively without moving the elbow while doing them; this is what ends up happening with scoliosis patients dealing with scoliosis rigidity.
The area of the back/spine that needs to be mobilized is so rigid that the exercises can't even be performed, let alone performed effectively for maximum results.
Increasing the Spine's Flexibility
When it comes to the role scoliosis exercises and physical therapy can play in treatment, it's about strengthening the back muscles that support the spine and increasing flexibility so the spine becomes more moveable and the curvature can be reduced.
That being said, when you start getting into treating larger curvatures, we need more than just exercises; we need what I like to call 'specific scoliosis passive therapy'. This isn't an active program, but a passive program with the goal of increasing the spine's flexibility.
If you have a small enough curve, or once you've increased the spine's flexibility enough, exercises can become a significant player in helping to reduce and stabilize a patient's scoliosis.
The big issue is finding the right type of exercise to accomplish those things, and that's done through scoliosis-specific physical therapy, not general physical therapy.
General Physical Therapy vs. Scoliosis-Specific Physical Therapy
General physical therapy exercises done to strengthen your core, lower back, quads and hamstring flexibility are all well and good for the body's overall health, but will have very little to do with your scoliosis in terms of whether it's going to progress or stay the same.
A physical therapy program has to be geared specifically for scoliosis to actually affect it. Not only do exercises have to be scoliosis-specific, they also have to be specific for your individual condition.
For example, someone with a lumbar curve will need completely different scoliosis exercises from someone with a thoracic or thoracolumbar curve. In order for physical therapy and exercises to work for scoliosis, the program has to be very specific to the condition itself and the patient's individual condition.
In addition, not only does the program have to be tailored towards the type of scoliosis the patient has, it also has to be adjusted to suit the patient's ability. What this means is that someone with a 50-degree curve may not be able to perform the ideal exercises.
In situations where the curvature is large and hampers the patient's ability to perform the necessary exercises, the physical therapy program has to be modified to first focus on increasing that patient's spinal flexibility in the area of the curvature. 
Once there is a baseline level of flexibility established, those exercises can be modified as the curvature responds and improves.
Scoliosis-Specific Physical Therapy
There are a lot of factors that go into designing and implementing a scoliosis-specific physical therapy program that can benefit a patient in the way we want it to.
What you have to remember is that a general physical therapist doesn't necessarily have training or fluency in how to design a scoliosis-specific exercise program.
When we talk about scoliosis exercises and physical therapy, we can't group specific scoliosis exercises into a general physical therapy program and expect a positive treatment outcome.
This is what I see a lot with patients who come to see me and say they've tried physical therapy with no results. Most often, these are cases where the patient has tried general physical therapy, not scoliosis-specific physical therapy that's tailored both to scoliosis in general and their individual condition.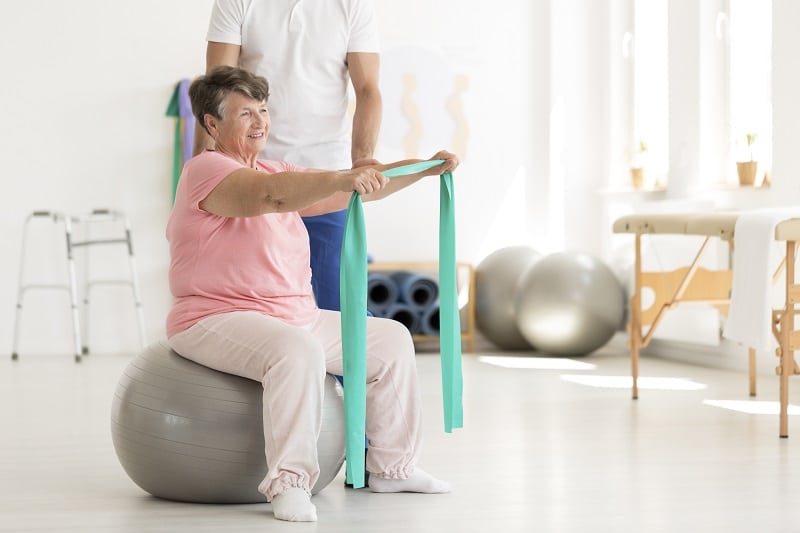 While general physical therapy can be effective for general core and lower-back strengthening, if it's not scoliosis-specific, it offers no significant or long-term benefits to the condition itself.
Scoliosis Severity Level and Physical Therapy
There are three main classifications of scoliosis: mild, moderate, and severe. As you can probably guess, the size of the curvature is the main factor that dictates where a condition falls in that range.
Mild Scoliosis
A patient with mild scoliosis could have a curvature that's 25 degrees or less. With mild scoliosis, scoliosis-specific exercises associated with the CLEAR Scoliosis Institute are often successful in achieving a reduction. There are three main types of exercises that comprise a complete program: specific isometric exercises, self-correction exercises, and neuromuscular exercises.
There are specific isometrics that counter the scoliosis effectively: localized contractions in the specific areas of the spine affected to help reduce the scoliosis. Isometric exercises are the preferred method because they tend to recruit the muscle fibers associated with posture and spinal alignment. Normally, these isometrics will be prescribed asymmetrically based on the patient's presentation.
What we'll also introduce is something called 'self-correction', where we teach the patient how to correct their spine and hold that correction with scoliosis-specific exercises. Learning "self-correction" can be difficult because scoliosis is a three dimensional misalignment. Learning the correct motions, in the correct order for a specific curve type is very challenging. However, once a patient has truly mastered self-correction exercises, it can become a powerful component of the program. 
There's also something called 'neuromuscular re-education' where we use balance and weighting to leverage the spine into a corrective position. Most exercises require the person exercising to have conscious contraction or focus on what muscles they are exercising. Neuromuscular re-education is a very different type of exercise because it relies on the individual's reflexes to generate the correct reaction and produce a reduction. Instead of conscious contraction, it attempts to induce a reflexive contraction. As a result, this tends to create a different type of muscle contraction than a conscious muscle contraction. Becoming proficient in prescribing this type of exercise can take years of experience. 
Scoliosis exercises are not what you would expect - do 100 sit-ups, 100 push-ups, etc. They must specifically be prescribed by someone certified in each of these areas to meet the individual needs of each patient.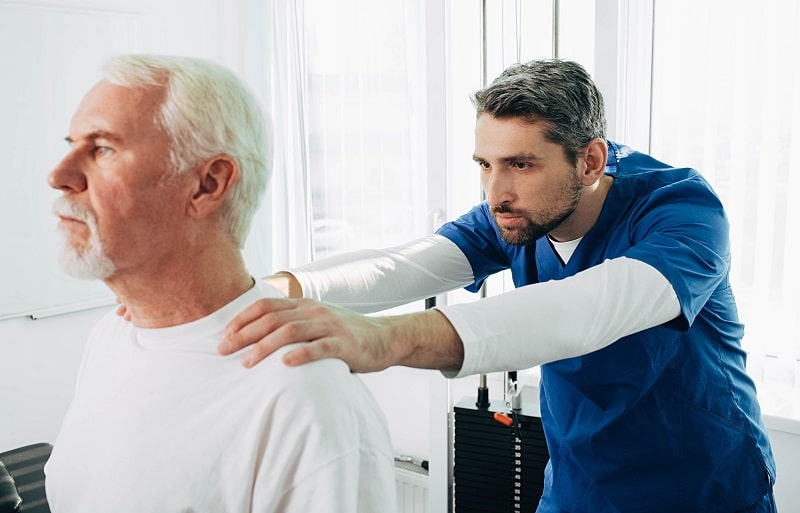 In cases of mild scoliosis, these efforts are often enough to reduce and stabilize a scoliosis.
Moderate Scoliosis
People with moderate scoliosis have a spinal curvature between 25 and 40 degrees. When we start getting into moderate scoliosis, in addition to the strategies and exercises used for treating mild scoliosis, passive therapy to help increase the spine's flexibility will be added. These passive therapies will be specifically prescribed and are unique to each patient, just like the exercise program. Passive therapies can include different forms of traction. These are designed for scoliosis and attempt to increase flexibility so exercises can have a greater effect. 
We can also use vibration therapy to increase flexibility and get a stronger muscle contraction in cases of moderate scoliosis.
Severe Scoliosis
Severe scoliosis refers to curvatures that exceed 40 degrees. When it comes to treating cases of severe scoliosis, all the above strategies and exercises can be used, but a lot of times, there is also the need to add some sort of molding to help get the body into a corrective position.
For patients with severe scoliosis, corrective molding is done with a corrective brace. In these types of cases, patients need a lot more than just exercises and physical therapy to improve their condition. Corrective bracing is also often used in moderate cases of scoliosis, especially in a growing child.
Conclusion
Scoliosis exercises and physical therapy can have a big impact on a patient's condition. In order to maximize the potential benefits, those exercises have to be scoliosis-specific, customized to the patient's individual condition, and introduced at the right time.
While general strengthening exercises and physical therapy programs can certainly help strengthen the core and lower back, unless they're scoliosis-specific, they will have little, if any, impact on an individual's scoliosis.
When done correctly, scoliosis-specific exercises can help strengthen the muscles that support the spine, increase the spine's flexibility, and take degrees off a curvature. 
Here at the CLEAR Scoliosis Institute, scoliosis-specific exercises and physical therapy programs are an important part of our treatment approach. 
Additional Resources:
"The author's views are his or her own and may not reflect the views of CLEAR Scoliosis Institute."