X-rays have been around since the late 1800s and remain one of the leading diagnostic technologies used worldwide. X-rays are noninvasive, accessible, inexpensive, and reliable. When it comes to a structural deformity like scoliosis, the first big challenge is getting an early diagnosis so treatment can be started; a mild scoliosis X-ray can tell us if a patient has scoliosis and what we need to know about the condition to start treatment.
When it comes to a progressive condition like scoliosis, early detection is key. There are a lot of benefits to catching a curve in the mild stage before it progresses into the moderate or severe stage; let's start by discussing why this is so important and the role that X-ray plays.
Scoliosis and Early Diagnosis
There are multiple factors that affect how a person will experience living with scoliosis. From the patient's age to the type of curvature, size of curvature, and location of curvature, these factors help classify a condition as mild, moderate, or severe.
When a condition is in its mild stage, it's the hardest to catch. Most likely, only a scoliosis specialist is going to be able to spot the subtle postural asymmetries that indicate scoliosis is present at this stage.

With mild curvatures, rib humps and uneven shoulder heights aren't always present or obvious. If a person, or their family, has noticed a difference in how they are developing, it's always a good idea to get further testing to confirm whether or not scoliosis is a factor.
An X-ray can tell us if a patient has scoliosis even in the mild stage. If a patient's X-ray shows they have a spinal curvature of more than 10 degrees that includes rotation, they will be diagnosed with scoliosis.
Mild scoliosis responds better to treatment than more severe scoliosis with larger curves, which is why early detection is key so that scoliosis treatment can be started.
While some people have concerns about X-rays and exposure to radiation, the benefits of being able to diagnose a progressive condition early far outweigh any risk of exposure to moderate amounts of radiation. In fact, there is research showing the risk associated with low dose radiation is extremely low. [1]
What are the Benefits of Getting a Mild Scoliosis X-Ray?
When monitoring and assessing a smaller curvature, doctors don't need to do a lot of X-rays. When you compare the benefits to the risks, I believe there are a lot more benefits to discovering mild scoliosis early, rather than waiting another year or more for the condition to progress; by that time, the curvature will be more severe and need more X-rays to monitor and treat.
Treating a case of mild scoliosis is going to be less intense and take less time than it would to treat a case of moderate or severe scoliosis that wasn't diagnosed in the mild stage.
When a condition is progressing, X-rays play a different role. Instead of using them for screening or taking them occasionally to monitor and assess a simpler smaller curve, they become more frequent and extensive.
For larger, more complex curves, more frequent and comprehensive X-rays need to be taken from various angles for accurate measurements, assessments, and monitoring.
What are the Risks Associated with Getting X-Rays?
When the average person thinks of risks associated with X-rays, they think of radiation. What I like to remind people is that they've likely been exposed to the same amounts of radiation they would get from an X-ray by other sources in life.
Even natural sources like the sun expose people to radiation. Getting a couple of mild scoliosis X-rays done likely carries less radiation exposure than you would get from natural sources without even being aware.
People don't associate CT scans with radiation as much as they do with X-rays, but in reality, they carry higher radiation-exposure levels than X-rays. [2]
That being said, we do understand that a concern is a concern, and if a patient comes in to discuss this with us, here at the CLEAR Scoliosis Institute, we address this concern by educating them.
We provide our patients and their families with studies and data comparing the exposure levels associated with X-rays to other natural sources and CT scans. [3] This helps put their minds at ease as they realize it's not just X-rays that expose people to radiation, that the actual exposure levels are very low, and that the benefits outweigh the risks.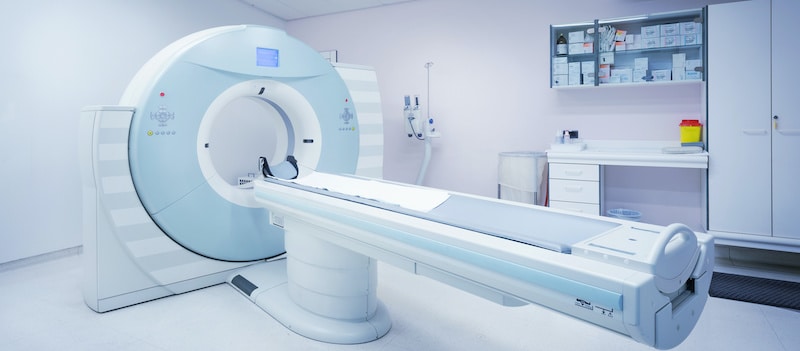 What's the Process of Getting an X-Ray for Mild Scoliosis?
When a patient goes into a doctor's office with concerns they have scoliosis, a screening test is often the first to be performed for mild  cases. A test such as the Adam's forward bend test, paired with a Scoliometer, is effective at determining if there is a need for further testing.
If a doctor does a screening exam and finds indicators for scoliosis, such as a rib hump or shoulder asymmetry, they will order an X-ray of the spine from back-to-front (posteroanterior or PA) to determine the Cobb angle (measurement of the curvature).
If the X-ray confirms the presence of mild, moderate, or severe scoliosis, the doctor will discuss the next step moving forward, which is designing a treatment plan.
Again, this is where we see the benefits of doing early X-rays that facilitate early diagnosis and treatment. A larger curvature equals a longer and more comprehensive treatment plan; with mild scoliosis, there are a lot more treatment options available with the added benefit of shorter response times.
Conclusion
Just as scoliosis can take many forms, there are also different treatment approaches that can be taken. While a traditional approach might encourage watching and waiting if a condition is mild and not starting treatment until it's progressed, here at CLEAR, we take the opposite approach.
When we diagnose someone with mild scoliosis, we feel this is of great benefit to the patient because this early diagnosis opens up more treatment options; it also offers better chances of successfully achieving a curvature reduction.
However, a diagnosis cannot be reached without a scoliosis X-ray. The X-ray confirms that the curvature is more than 10 degrees and includes rotation, and these findings are what defines scoliosis.
When it comes to people concerned about the dangers of radiation exposure from X-rays, showing them data comparing X-ray radiation exposure levels to other forms of exposure puts their minds at ease.
More importantly, I remind people that in the context of scoliosis, the benefits of early diagnosis and treatment far outweigh any potential negatives associated with getting X-rays.
Sources: 
[1] Cumulative Radiation Exposure and Cancer Risk Estimation in Children With Heart Disease | Circulation
[2] Radiation risk from medical imaging - Harvard Health
[3] The Scoliosis Quandary: Are Radiation Exposures From Repeated X-Rays Harmful?
Disclaimer: The author's views are his or her own and may not reflect the views of CLEAR Scoliosis Institute.