A healthy spine will appear straight when looking at someone from the front and/or back, but take on a soft 'S' shape when viewed from the sides; this is because each of the spine's main sections have a natural curvature. Lordosis refers to the spine's inward curves of the neck and lower back, but if an individual's lordosis falls beyond a normal range, it can disrupt the biomechanics of the entire spine.
The human spine has natural curves that help it absorb shock, support the weight of the head, and stabilize the body, but a spine that's excessively curved can also cause problems. Lumbar hyperlordosis refers to when the lower back's inward spinal curve becomes too pronounced.
Before getting into the specifics of lumbar lordosis, let's touch on some basic spinal anatomy for a better understanding of how the spine's curves work together to preserve overall spinal health and function.
Anatomy of the Spine
The spine is a complex structure with many moving parts and has three main sections: cervical (neck), thoracic (middle/upper back), and lumbar (lower back).
The spine is made up of square/rectangular-shaped bones called vertebrae, and these are stacked on top of one another in a straight and neutral alignment.
Adjacent vertebrae are separated by intervertebral discs that provide cushioning to help prevent friction, particularly during movement, and this helps protect the bones from degeneration.
The discs also work together to facilitate flexible movement, provide the spine with structure, and act as its shock absorbers.
So the discs, vertebrae, and the muscles that surround the spine work together to maintain its natural curvatures and alignment, and the integrity of each spinal curve at each spinal section is dependent on the others.
The two main types of spinal curvatures are known as kyphosis and lordosis.
Kyphosis and Lordosis
Kyphosis refers to the backward curvature of the thoracic spine or middle back, that bows away from the body's center in a reverse 'C' shape, while lordosis refers to the spinal curves of the cervical and lumbar sections that bow inwards, towards the body's center in a standard 'C' shape.
While these natural curvature types help the spine function, if one becomes excessive and falls beyond a healthy curvature-degree range, problems can occur, and this is known simply as lordosis, or hyperlordosis.
Lumbar lordosis means the lower back has an excessive lordotic curve, which can cause a variety of symptoms and has a number of causes, which we'll return to.
So what exactly is a healthy curvature-degree range of cervical and lumbar lordosis?
Similar: Understanding Your Spine: Loss of Cervical Lordosis
A healthy range of lumbar lordosis would fall between 35 to 45 degrees, but if a curvature size becomes excessive and falls beyond the normal and healthy range, the spine is affected adversely.
So now that we have defined lumbar lordosis, let's discuss some common causes of the spinal condition.
What Causes Lumbar Lordosis?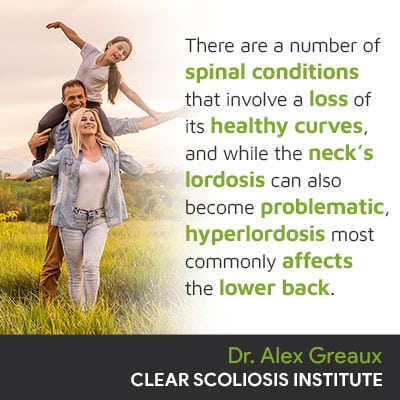 There are a number of spinal conditions that involve a loss of its healthy curves, and while the neck's lordosis can also become problematic, hyperlordosis most commonly affects the lower back.
Lordosis can also involve more than one spinal section; for example, if the excessive lordosis involves the lower thoracic and upper lumbar spine, this is diagnosed as thoracolumbar lordosis.
The lumbar spine consists of 5 vertebrae (L1 to L5), and these vertebrae experience the most stress as the lower back supports the weight of the rest of the spine.
The lumbar spine connects to the pelvis and also supports the weight of the body's trunk, not to mention bearing the brunt of stress from lifting/carrying items; this is why lower back pain (LBP) is the most common type of back discomfort.
So what are the symptoms of having excessive lumbar lordosis, aka lumbar hyperlordosis?
Symptoms of Lumbar Lordosis
When a person has an excessive lordotic curve in the lower back, the condition can cause a number of symptoms.
Due to the excessive curvature, a person with lumbar lordosis wouldn't be able to lie flat on the floor without having space between the lower back and the floor.
While back pain can be a real issue for people with lumbar lordosis, it can have different causes from adverse spinal tension to trunk weakness, short hamstring muscles, and weakened thighs.
When the spine has an unnatural curve, this doesn't solely affect the spine, but also its surroundings; the uneven forces introduced by an unnatural spinal curve can cause muscle imbalance as surrounding muscles/tendons struggle to support an unnaturally-curved spine.
Also Read: Straightening Of The Lumbar Lordosis
Additional lumbar lordosis symptoms can include:
Back pain
Muscle pain
Numbness
Tingling
Weakness
Bladder/bowel problems
The most common visual symptom of lumbar lordosis is a swayback appearance as the buttocks and abdomen protrude excessively, becoming more prominent.
Now that we have defined and discussed the condition and its common symptoms, let's talk about causation.
What Causes Lumbar Lordosis?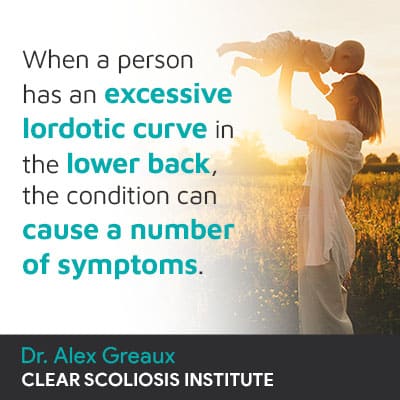 There are many different causes of lumbar lordosis from the presence of other spinal conditions to lifestyle choices. Following are some of the most common:
Kyphosis 
As mentioned earlier, the integrity of each spinal section's curve is dependent on the health of the others, so when one healthy spinal curve is lost, compensatory curves can develop in an attempt to restabilize the spine and maintain balance.
Therefore kyphosis, aka hyperkyphosis, that causes a roundback appearance, can cause the lumbar spine to compensate for the imbalance created by the unnatural curve above by becoming excessive itself: hyperlordosis.
Posture and Accidents
The most common cause of changes to the normal patterns of spinal curvatures (either an increase or decrease) are related to posture and accidents; how you sit and stand directly affects your spinal position and will actually affect the overall mechanics leading to a change in its normal/optimal position.
Accidents including motor-vehicle accidents, slip and falls, and sporting injuries can all contribute to a change of position both positively and negatively; the direct forces that happen as a result of these incidents will change the position of the spine.
Osteoporosis
The presence of spinal conditions/diseases that impact the integrity of the vertebrae themselves, such as osteoporosis, can cause the bones of the spine to become weak, compromising the spine's structural integrity.
Osteoporosis is a disease that involves a loss of bone density, most commonly affecting women as they age and go through menopause-related changes to bone density and hormone levels.
Spondylolisthesis
Spondylolisthesis most commonly affects the lumbar spine and involves one vertebral body slipping forward over the one below.
Commonly caused by disc degeneration, spondylolisthesis puts pressure on the lower vertebra, affecting the area's integrity.
Obesity
As mentioned, there are certain lifestyle choices that can have a negative effect on the spine over time, such as not maintaining a healthy weight.
Carrying excess weight not only puts extra pressure on the joints of the spine, it can also cause people to lean backwards excessively in an attempt to improve balance, but this commonly ends up negatively impacting posture and the position of the spine.
Conclusion
Maintaining the spine's natural curves and alignment are key to preserving its optimal health and function.
As a CLEAR-certified scoliosis chiropractor, I have experience treating a wide range of spinal conditions, including lumbar lordosis.
Lumbar lordosis involves an excessive lordotic curve of the lower back, commonly causing a swayback appearance with the buttocks and abdomen protruding excessively.
Additional symptoms of lumbar lordosis can include back and/or radicular pain, sensations of tingling and numbness, muscle pain, and changes to balance and gait.
Causes of lumbar lordosis can range, but commonly involve intervertebral disc issues, the presence of other spinal conditions such as kyphosis, osteoporosis, spondylolisthesis, and obesity.
Through condition-specific chiropractic care, a variety of therapies, custom-prescribed exercises, and lifestyle guidance, I can help patients work towards restoring as much of the spine's healthy curves as possible, in addition to increasing core strength so the spine is optimally supported and stabilized.
While not all forms of lumbar lordosis will produce noticeable symptoms and require treatment, those that involve a fixed curve, as in one that isn't reduced/altered by a change of position will need treatment to impact it on a structural level.